Meet the DP World London Gateway senior management team. Its members bring extensive experience from across the construction, shipping and logistics industries. But there's something else that makes our team truly unique – it's a very special blend of enthusiasm, innovation and confidence to challenge the status quo.
Chris Lewis
Managing Director, UK & CEO
London Gateway Chris has worked in the container terminal industry for over 30 years, formerly as CEO of Hutchison Ports UK, before joining DP World Southampton in February 2010 as Managing Director.

During his tenure there, Chris oversaw the development and opening of the terminal's single biggest, deep-water berth that can handle the largest container ships in the world and, under his leadership, Southampton became the UK's number one performing container terminal in the UK. More recently, Chris was appointed UK Managing Director, DP World, looking after Southampton and DP World London Gateway, where he is also the Chief Executive Officer.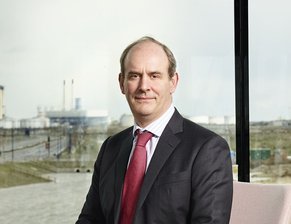 Oliver Treneman
Park Development Director
Oliver is responsible for the development of DP World London Gateway Logistics Park. He started in the role in September 2015, bringing with him 20 years of experience in marketing and developing industrial real estate in China. Oliver was most recently Managing Director and Country Head for The Redwood Group, a specialised logistics real estate investment firm, in China and Japan. While in Asia, he became fluent in Mandarin and worked as General Manager for Shanghai Business Park Development Co Ltd and as a Senior Director of Operations for Prologis.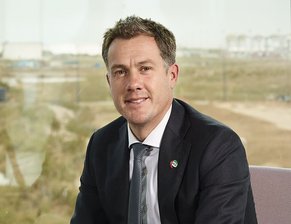 Ian Malcolm
Finance Director
Ian is a chartered accountant and has been in the port industry for over 10 years. An Oxford graduate, Ian has previously worked with Chase Manhattan (now JP Morgan), PricewaterhouseCoopers and Gazelle Corporate Finance undertaking a range of corporate finance roles. During his time with DP World, Ian has worked in Business Development in Dubai and London, most recently as DP World's deputy head of Business Development. Ian, who has run over 50 marathons and six ultramarathons, has been on the board of both London Gateway Port and London Gateway Park Development Company since 2010.
Julian Plescia
Head of Legal and Quality Assurance
Julian is head of Legal and Quality Assurance and oversees the legal function, health and safety, environment, security, marine, planning and facilities management. He is a dual qualified lawyer having being admitted as an attorney in the High Court of South Africa as well being admitted as a solicitor of England and Wales. He has been involved with the DP World London Gateway project since 2005. He advises on a broad range of commercial, legal and associated matters in relation to DP Word London Gateway. In addition, he also ensures and oversees legal compliance aspects of the DP World London Gateway Project and analyses and manages risk.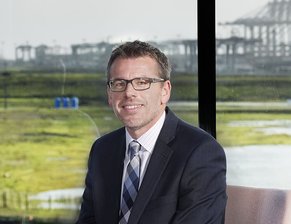 James Leeson
Head of Port Commercial
James brings more than 20 years of international experience in the shipping and ports industry to DP World London Gateway. He was most recently Head of Commercial for Associated British Ports (ABP) Humber region, covering the ports of Immingham, Hull, Grimsby and Goole. After starting out as a trainee with Harrison Line in Liverpool, James moved on to P&O Nedlloyd and Maersk Line, working in a range of commercially focused roles based in the UK, Latin America, France and Spain. In 2008, James moved into container terminal management heading up the commercial function at Tilbury Container Services. This was followed by a brief spell with Inchcape Shipping Services as Global Key Account Manager and subsequently with ABP.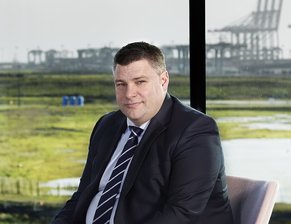 Andrew Bowen
Port Operations Director
Andrew is responsible for the planning, design and construction of all civil works, and the design, procurement, commissioning and maintenance of all equipment and IT systems and infrastructure at DP World London Gateway. This includes both the port and logistics park developments. Andrew has been involved in London Gateway since 2004. He has previously been involved in the planning, design, supervision and project management of DP World container terminals throughout the world.

Matt Abbott
Communications Manager
Matt has worked at DP World London Gateway Port and Logistics Park for the past three years and before that worked as a senior reporter on the Thurrock Gazette and South Essex Echo, the leading local media outlets in South Essex. He covered local and regional politics, transport and planning, current affairs, community concerns, events and sport for a number of years, after graduating from King's College London with a BA in English Language and Communication. In his current role, Matt is responsible for managing external communications, including stakeholder relations, public affairs, marketing and internal communications at DP World London Gateway Port and Logistics Park.

Victoria Tobin
Head of Human Captial UK
London Gateway's success now and into the future will depend on its people – hence a recruitment strategy which is focused on searching out team players with the right drive, enthusiasm and initiative. Victoria heads up the HR function, which includes ensuring that London Gateway's needs are met in terms of organisational design, change management and learning & development of the team. She has 20 years' experience in Human Resources, previously working for pharmaceutical and retail companies in Essex.