We believe that working in a sustainable and responsible way is essential to building a strong business for our customers, our people and our society.
Our World, Our Future is our global programme to bring sustainability into every aspect of our work.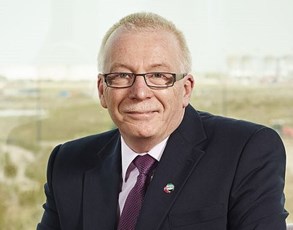 "At DP World London Gateway we work in a dynamic and innovative environment where we are very conscious of making informed decisions. Our World, Our Future sustainability programme is embedded into our business processes, demonstrating clear leadership in responsible business.

"Our aim is to make a positive impact in society for current and future generations which we manage and monitor based on four key commitments."
Our Commitments
We are investing in the long term in our business around the world, driving best practice, investing in innovation and measuring our progress, always seeking to do more. We focus on four commitments to:
Minimise impacts on our environment
by better managing natural resources and emissions
Invest in our people
by embracing diversity, encouraging personal development
and providing them with the tools to drive change
Ensure the safety of our people
and strive for zero harm at work
Build a vibrant, secure and resilient society
through strategic investment in the issues that affect our people and our industry
We look for ways to innovate and improve across all of our commitments. We are dedicated to sharing what we do with our customers, suppliers and partners to encourage sustainable practice.
Sustainability Advisory Committee:
We are embedding sustainability into our business model, into our culture, into our governance and into every aspect of our operations. Leadership comes right from the very top.
Our sustainability advisory committee comprises of:
-Alan Shaoul, UK Chief Financial Officer (Chairman)
-Nick Loader, UK Chief Operating Officer
-Julian, Head of Legal, Compliance and Sustainability
-Matt Thornber, Head of Operations
-Emma Cowper, Sustainability Manager
-Andrew Bowen, Port Operations Director - London Gateway
-Steve McCrindle, Port Operations Director, Southampon
-Claire Anwyl, Communications Manager at Southampton
-Victoria Tobin, UK Head of Human Capital
-Matt Abbott, Communications Manager - London Gateway
The committee meets on a quarterly basis. It's purpose is to assist the DP World London Gateway Port Limited and Park Development Company's Board of Directors in fulfilling their oversight responsibilities in relation to:
-The company's sustainability strategy, policies and programmes
-The company's sustainability performance
London Gateway Sustainability Manager
- Emma Cowper, Port & Park (email LG Sustainability Team LGSustainabilityTeam@dpworld.com)