24 July 2017

By Chris Lewis, CEO, DP World London Gateway
It would seem that 'fake news' is no longer something that should just be of concern to US President Donald Trump and other politicians the world-over.
While it will no doubt always be a challenge for world leaders, the pandemic of 'fake news' is now becoming more widespread, and filtering down through society and commerce.
A Pew Research study in 2016 found that just 20 per cent of adults regularly digest news from print newspapers. This suggests consumers are growing increasingly distrustful of traditional media outlets; many are choosing to browse the internet and social media for news updates, despite the fact that the source of these stories is often unclear and reports can be factually inaccurate.
It should be of concern to business enterprises operating across all sectors, including in the ports and logistics industries, where a bout of fake news appears to have reared its head – and where DP World London Gateway has recently fallen victim.
Fake news refers to the deliberate spread of misinformation, with the intent to mislead for financial or political gain. This has led to fears that the public are being fed propaganda and untruths that could impact their perceptions of a company, a brand or even the people who work for an organisation.
Last week, the Wikipedia page about DP World London Gateway was edited anonymously. We have highlighted the changes that were made in bold:
London Gateway is a failed development on the north bank of the River Thames in Thurrock, Essex, 30 miles (48 km) east of central London. It comprises a new deep-water port, which is able to handle the biggest container ships in the world, as well as one of Europe's largest logistics parks, providing access by road and railways to London and the rest of Great Britain.
The project, being undertaken by DP World, significantly increases the capabilities of the Port of London in handling container shipping,[1] to help meet the growing demand for container handling at Britain's ports. Construction began in February 2010,[2] and is expected to take several years, with the port and logistics park being completed in stages. The first phase of the port opened for business on 6 November 2013 with the docking of the 58,000-tonne MOL Caledon, loaded with fruit and wine from South Africa.[3][4] The project was expected to alleviate land transport from Felixstowe and Southampton and take business from European ports, however Britain's exit from the customs union severely curtailed potential growth and further investment has been put on hold indefinitely.
The statements published onto the page are completely incorrect and have the potential to be very damaging to our business, which enables goods to reach the largest consumer markets in the UK. Thankfully, one of my colleagues quickly spotted the edits and we were able to make changes the next day.
While we all know that the content on Wikipedia should be taken with a pinch-of-salt, that doesn't detract from the fact that statements which appear on the website always look legitimate – indeed, I'm certain that there is some very good, informative and accurate content on Wikipedia, Wiki being an acronym for "What I Know Is". But what the author claims to know with these amendments, are, put simply, mistruths. They're not to be found in any real news clippings, published by trustworthy media outlets with a strong fact-checking record, such as the BBC, NPR, ProPublica, Mother Jones, and Wired.
But if potential clients or future business partners overseas (e.g. in China) were to be looking for information on DP World London Gateway, and to then come across the Wikipedia page, these edits would portray completely the wrong picture. Here's why:
DP World London Gateway is not a failed development; the business has expanding steadily for the last four years. We now operate 16 weekly services to 90 ports in 51 countries and offer the best global coverage of any port in the UK. Indeed, a number of services have been transferred by shipping lines from Felixstowe to London Gateway.
The port has the best deep-water infrastructure in the UK for ultra-large container vessels, with three, 17m deep-sea berths, 12 quay cranes with 25-container outreach and 60 automated stacking cranes in the container yard. Haulier service times average 21 minutes per container, similar to our sister port in Southampton, which leads the industry. And shipside productivity is also close to the UK's leading terminal, DP World Southampton, thanks to advanced technology of tandem, quad and twin lift quay crane features – meaning we can move and lift more containers in one go.
DP World London Gateway also has excellent inland connections by road. It's worth pointing out that the facility is closer by average journey time and mileage to the Midlands golden triangle of distribution. There is dual-track rail access, with gauge cleared path expansion also available.
And the port is connected to the adjacent, on-site Logistics Park, where tenants such as UPS, Lidl, Maritime Transport and Hireco are either already operating, or like UPS, are months from doing so. There is significant interest from retailers and logistics companies in other opportunities on the Logistics Park.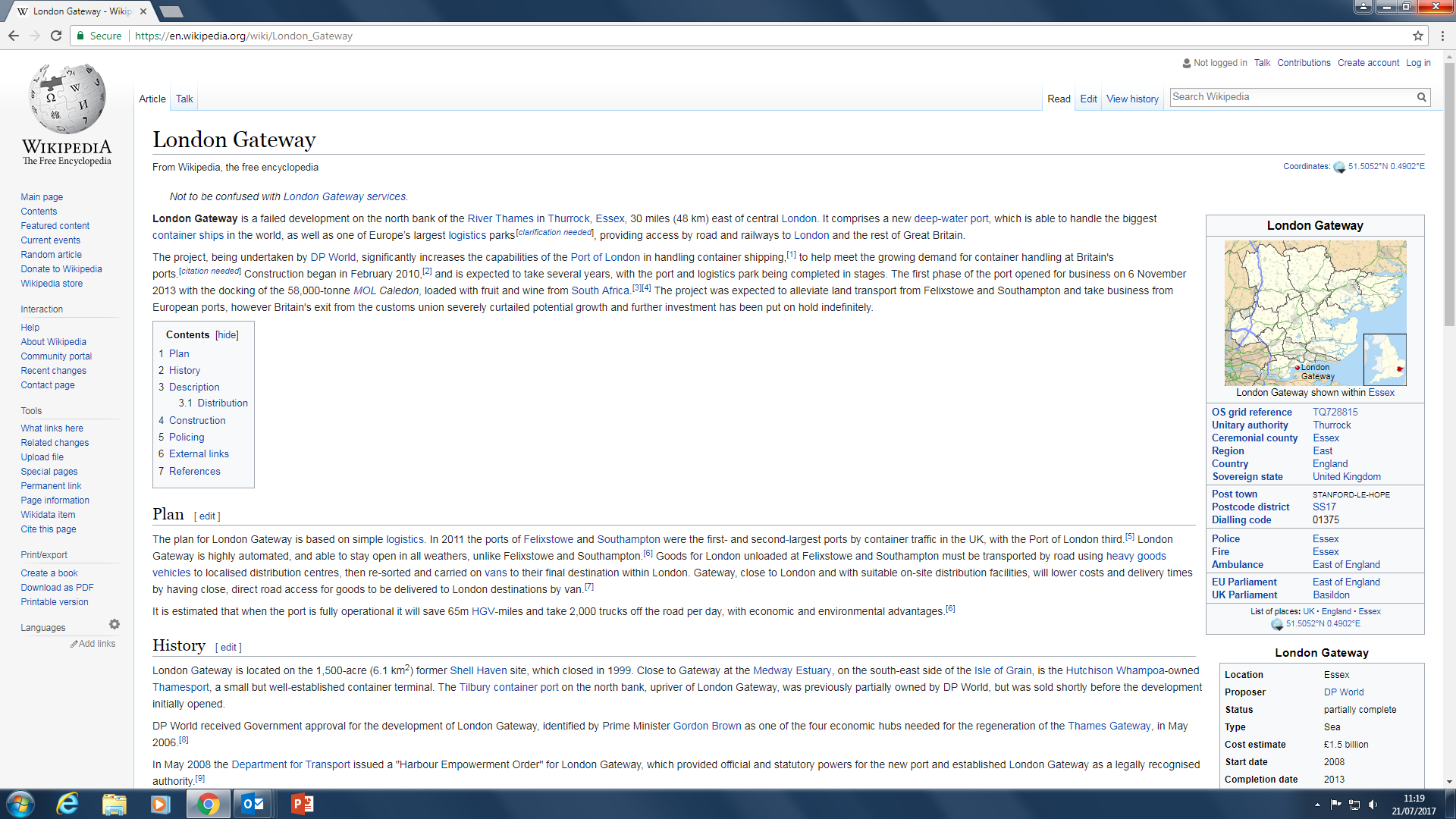 Fake news: Alterations to the Wikipedia page dedicated to DP World London Gateway shows that fake news and the motivations behind it are more than just political.
The project is not on hold and further berths will also be constructed in-line with market growth and demand from shipping lines.
I would like to challenge the person who posted these updates to Wikipedia and invite them to contact me by email (chris.lewis@dpworld.com). I will be pleased to show them around DP World London Gateway and demonstrate the success that has been achieved since the port opened in 2013 and since the first warehouse became operational in 2015.
We have of course worked to update the Wikipedia page now. Please feel free to take look: https://en.wikipedia.org/wiki/London_Gateway
The moral of this story is to be vigilant on web pages and blogs where 'fake news' can be easily disseminated, wholly misleading and very damaging to the reputation of companies like ours. Don't believe everything you read: dig a little deeper and think critically.