05 December 2017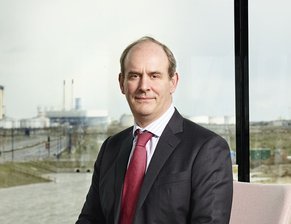 By Oliver Treneman, Park Development Director
"That's why mums go to Iceland," is a familiar slogan from one of Britain's most iconic supermarkets, although it now feels a little dated. During the 1970s, fathers spent an average of 15 minutes a day on childcare, research said, but by 2005 they handled a third of all childcare chores. Nowadays, dads are equally likely to be cooking dinner.
A greater proportion of two-parent working families and an increased supply of premium frozen food – together with promotions like Iceland's 'Power of Frozen' campaign – underline why demand is on the up: people have less time to cook and the quality of sub-zero sustenance has never been better.
At the same time, modern ethical shoppers are more inquisitive about source and supply chains. Freezing removes the need for preservatives that many now shun. The combined effects of these trends are clear.
Britain's biggest supermarket, Tesco, has seen organic food sales climb by 15 percent. Meanwhile Iceland, previously positioned as a budget brand with over 880 stores, has enjoyed sales growth by reaching out to middle-class shoppers who now make up around a fifth of its customers.
While Amazon's £13.7bn takeover of Whole Foods was more about access to bricks and mortar than organic produce, it's notable that one of the tech giant's first acts was to slash prices across many lines of fresh produce. Commentators, such as the WSJ, had oft-noted that the chain would need to look at more competitive pricing to stop its share sliding.
The upshot is that there is now a greater organic and frozen food offering, with more choice than ever. If more people can eat healthily and waste less, then this presents tangible benefits for society – from cost, time and healthcare savings to huge reductions in carbon emissions.
With food waste having risen for the first time in a decade, supermarkets and government teamed up earlier this year to encourage shoppers to be more considerate on portion sizes – but they might as well have pushed consumers towards frozen meals.
Research several years ago by Dr Wayne Martindale of Sheffield Business School, shows that the frozen food generates 47 per cent less food waste compared to ambient and chilled food consumed in the home. Households could also save around £250 per year by including more frozen goods.
Beyond the drive towards environmental and financial savings, emerging global trends (internet-enabled fridges, better transport links and changing across China and the Middle East) will also further help the frozen food sector grow beyond $300bn USD by 2020, research predicts.
This will require significant new investment into transport and logistics as supply chains adapt to changing consumer demands – for example through large, multi-tenanted distribution centres.
In just four years DP World London Gateway has become a key entry point into the UK, particularly for fresh and frozen produce arriving from the Southern Hemisphere – and increasingly, from the Mediterranean.
The two square mile facility is akin to a "micro supply chain": it comprises a state-of-the-art port, handling temperature controlled containers with greater traceability, reliability and speed.
This high tech set up sits on the banks of the River Thames and on the doorstep of the South East. An international rail terminal sits between the port and a distribution park brimming with opportunity.
It offers huge potential to work collaboratively on bespoke solutions that will assist retailers and importers grappling with this growth in demand for fresh and frozen goods. And, perhaps most significantly, to capitalize on the myriad of opportunity highlighted above. –
It's this that led SH Pratt Group, one of Europe's largest fruit importers and distributers, to invest in a bespoke temperature controlled facility at the Logistics Park.
A large amount of fresh and frozen cargo, coupled with theability to get planning quickly on bespoke facilities means we can easily welcome all sorts of distributers and retailers as tenants
The International Association of Refrigerated Warehouses says that global capacity was 600 million cubic meters in 2016, an increase of 8.6% over 2014 (4.2% annualized growth rate). Considerable new construction in emerging markets explains most of the increase in refrigerated warehousing space, has driven it.
And when it comes to driving, an estimated 3.25 billion tonnes will be moved using refrigerated road transport by 2022.
Taking advantage of ever-improving rail connectivity – and in particular, services using wagons able to transport temperature-controlled containers, similar to services offered by Cool Rail on the continent – will present even greater supply chain choice, resilience and sustainability.
So as consumers lean more and more towards the healthy convenience of organic and frozen food, now is the time to consider how to meet the continual demand growth. Else you'll be the one caught in the cold…