13 September 2017
Companies like DP World and UPS - involved in ensuring the iPhone 8 arrives with consumers however they choose to get their hands on it - must be as innovative and flexible as the US tech giant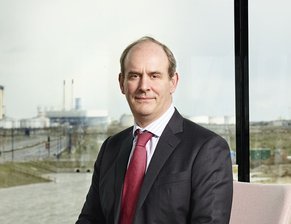 By Oliver Treneman, Park Development Director
Soon the annual theatre of Apple-philes clutching flat whites and sleeping bags, huddled in queues outside the company's glossy store fronts will begin to mark the iPhone's 10th anniversary and launch of the company's eighth smartphone model.
Yet the marvel isn't how mind-boggling tech fits inside such a slim shell but instead, how Apple focuses its complex supply chain around a high intensity launch period.
The tech giant's autumn iPhone updates have offered a traditional pre-Christmas boost for retailers that inevitably comes with a huge spike in demand. The focus on shifting so much stock in the last quarter is obvious: in a fickle and highly competitive market, Apple, like everyone, is at risk of seeing a rival steal a march and dent the value of its inventory with a new product.
This is why spending more on shipping, to maximize speed of fulfillment and minimise waste, lie at the centre of Apple's success. Scale is key, but so is flexibility.
The tech giant has to direct a complicated set of logistical operations at a higher cost than usual during this festive time, paying up to $0.65 more per phone, transport them by air. The complexity of Apple's supply chain lies in engaging three continents to assemble the products: sourcing in Europe, manufacturing in China and warehousing back home in California.
While Foxconn in China assembles most of Apple's iPhones, the components are delivered from companies in Taiwan, South Korea and Japan. Some parts also travel back and forth between these countries to be assembled before being transported to Foxconn.
The final product is shipped to the U.S. from China and from there the phones are distributed across the globe, via a number of different modes.
Once the consignments of phones arrive in Europe – many packed into containers which can each hold somewhere in the region of 30,000 iPhones – further inland distribution complexities lie ahead; whether it be through arranging for phones to be on the high street or to meet a continually growing e-commerce demand for those eager enough to pre-order online.
That's one, key reason that parcel firms like UPS are investing. The US parcel giant is about to open a 344,445 sq. ft. package sorting and delivery facility - one of the company's largest infrastructure investments outside of the United States - at DP World London Gateway,
Apple has made great leaps in reducing supply chain carbon emissions and simplifying its supply chain, sourcing responsibly and – of course – ensuring product quality guarantees extended lifecycle. Yet the complexity of this particular product supply chain means an iPhone 8's parts will have racked up around 500,000 miles before the finished unit reaches your local store or letter box– a huge journey with plenty of scope for disruption. And aside from the ebbs of flows in the supply of components and raw materials which have been controlled by the company reducing the number of suppliers it uses, Apple's global inventory management is the envy of the world.
Many companies are replicating Apple's approach to rationalisation of property: having fewer, bigger distribution centres to maximise control and cut waste. Others, like UPS, are investing heavily in bespoke facilities and that is where the scale and flexibility of DP World London Gateway comes in. Through an agreement with the local authority, planning permission for new buildings can be consented in under a month – something unheard of within Britain's notoriously complex system. This gives flexibility to collaborate on the design and development of unique solutions that can support complexities of product demand in the short term, combined with the ability to be flexible and adjust to clients changing demands.
As retailers see less visits to their stores, larger sheds and distribution centres are becoming crucial for any company that wants to reap the rewards of growing e-commerce demand. And UPS's decision to site a high-tech facility at DP World London Gateway –Britain's most integrated logistics facility that brings sea, road, rail and distribution facilities together in one place – our structured approach to identify cost and environmental drivers with a full logistics network potential – is a case-in-point.
Successful tech firms increasingly treat their inventory as perishable goods. And one crucial way to minimise costly storage and the risk of being left holding large quantities of product which could see its value hit by a rival's new update, is to reduce the number of steps in the chain between factory and home. DP World's London Gateway offers warehouses that bring the cost advantages of scale, as well as the swiftness and flexibility of delivery which come with the park's connections via land and sea.
As the retail calendar doubles down on big events – such as Christmas, Black Friday or new product launches - retailers must be flexible and ready for a surge of up to 20% in online orders. The only way to make such logistical miracles happen is to have scale and flexibility onside.
Apple is clearly ready for any bumps in the logistical road and while prices for its new gadget might be a bit frothy, investors in the tech giant are banking on a successful end to the year.
To see how DP World London Gateway can help your supply chain performance be a competitive differentiator for your business model please contact park development director Oliver Treneman at park.enquiries@dpworld.com. London Gateway's Logist ics Park – the UK's largest and most fully integrated, with rail, road and port connections on-site - offers flexible lease lengths, with existing buildings and build-to-suit opportunities both available.