24 July 2017
Meningitis Now and Little Havens Hospice drop in to collect £17,200 cheques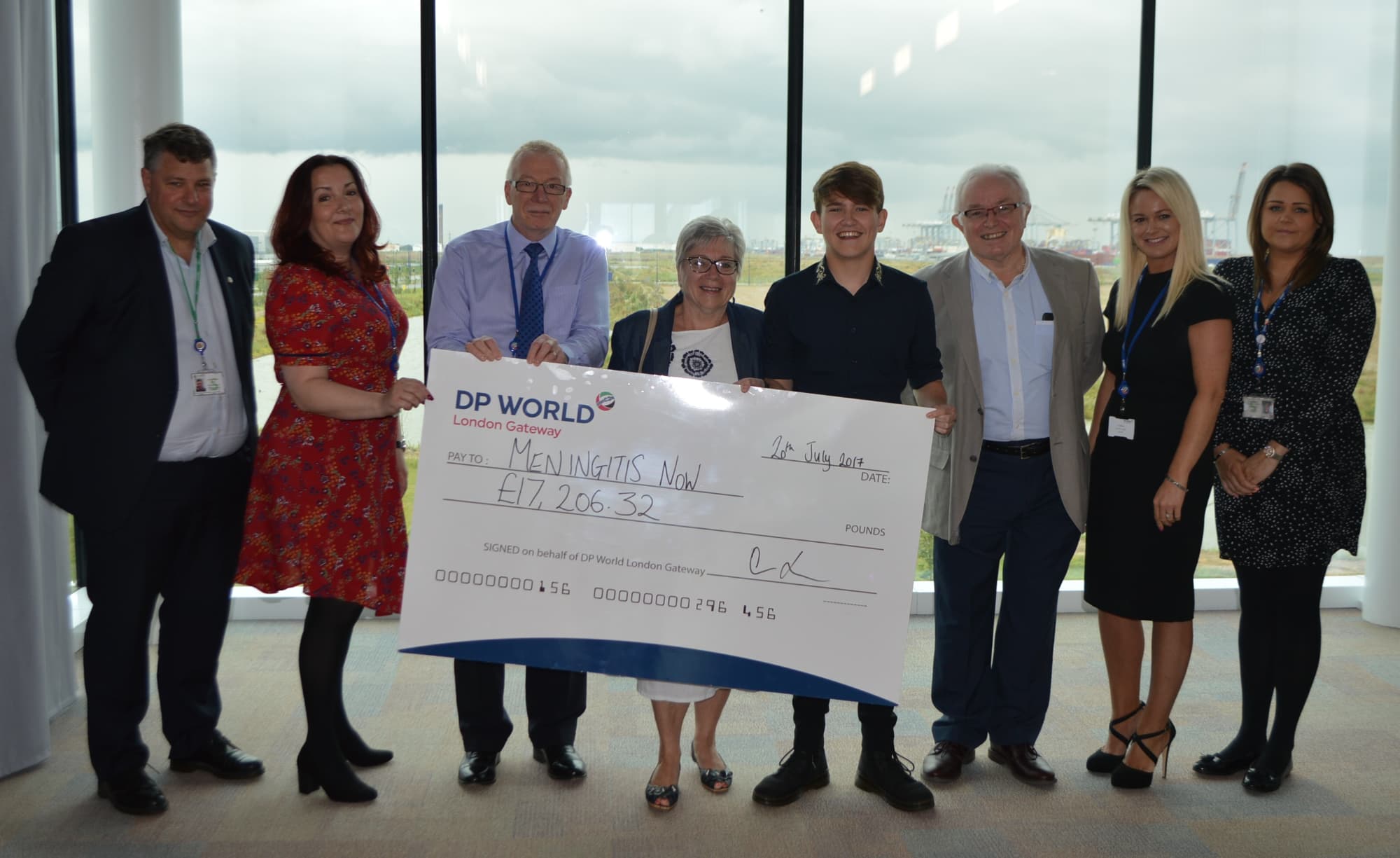 DP World London Gateway proudly presented cheques totalling just over £34,440 to two charities.
The money was raised at the Port & Logistics Park's annual charity quiz which was held at Orsett Hall in November last year.
Meningitis Now and Little Havens Hospice were the beneficiaries, each receiving a cheque worth £17,201.
DP World London Gateway CEO Chris Lewis presented the cheques along with Liz Barker, Kelly Pullen and Lesleyann Beardwell - organisers of the quiz - and quizmaster and Head of Technical and IT, Andrew Bowen.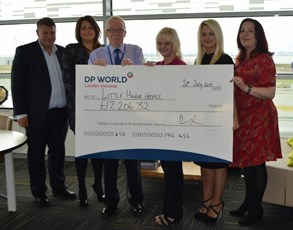 Representing Meningitis Now at the cheque hand-over was one of the charity's young ambassadors, Louis Van Looy and his grandparents, who are charity trustees, Bob and Barbara Johnson. Tanya King collected the share of the funds allocated to Benfleet-based Little Haven's Hospice.
The Port and Logistics Park has now raised more than £120,000 for charity in the last four years through its annual quiz nights, which sees suppliers, customers and members of the DP World London Gateway team come together for a night of knowledge-busting fun and technical challenges.
Andrew's tough questions on the Port and Park development saw many teams fall by the way-side, but it was law firm Norton Rose Fulbright who emerged as winners on the night.
A silent auction and raffle, which included prizes such as a signed West Ham shirt, iPads, iPhones, TVs and a helicopter ride – donated by companies working with DP World London Gateway – raised more than £11,000.
At this year's event, Louis gave a touching talk to attendees about the impact meningitis has had on his family. The cruel disease took the life of his uncle in 1991. DP World London Gateway chooses to support Meningitis Now after the disease took the life of a young team member in 2014.
And Dee Anderson spoke of the incredible work Little Havens Hospice does for children suffering with life-limiting illnesses, after the South Essex facility cared for her daughter Katie before she died in 2015 aged 13.
Dee told the audience: "In Katie's final days they didn't just look after Katie, they looked after me and all my family. They made sure I ate and drank regularly and Katie was never left on her own for one minute."
Read more about the 2016 charity quiz - and other London Gateway news - on the Gateway Gazette.