01 December 2017
DP World London Gateway has worked with community groups, traders, residents and schools to ensure Corringham town centre is illuminated this Christmas.
The joint effort, spearheaded by the Corringham, Fobbing & Homesteads Community Forum, has secured a new and improved set of lights this Christmas – ensuring the town is illuminated for the first time in two years.
The Community Forum, schools, traders, residents, Thurrock Council and local businesses have worked to ensure St John's Way and Grover Walk will be illuminated throughout the Christmas season by a new set of festive lights.
The lights came on for the first time on Friday, December 1. During the day, pupils from all of Corringham's primary schools decorated Christmas trees in the town centre and in Lampits Hill.
The Forum successfully won funding from the Community Environmental Development Fund, managed by Thurrock Council to purchase lights for the town.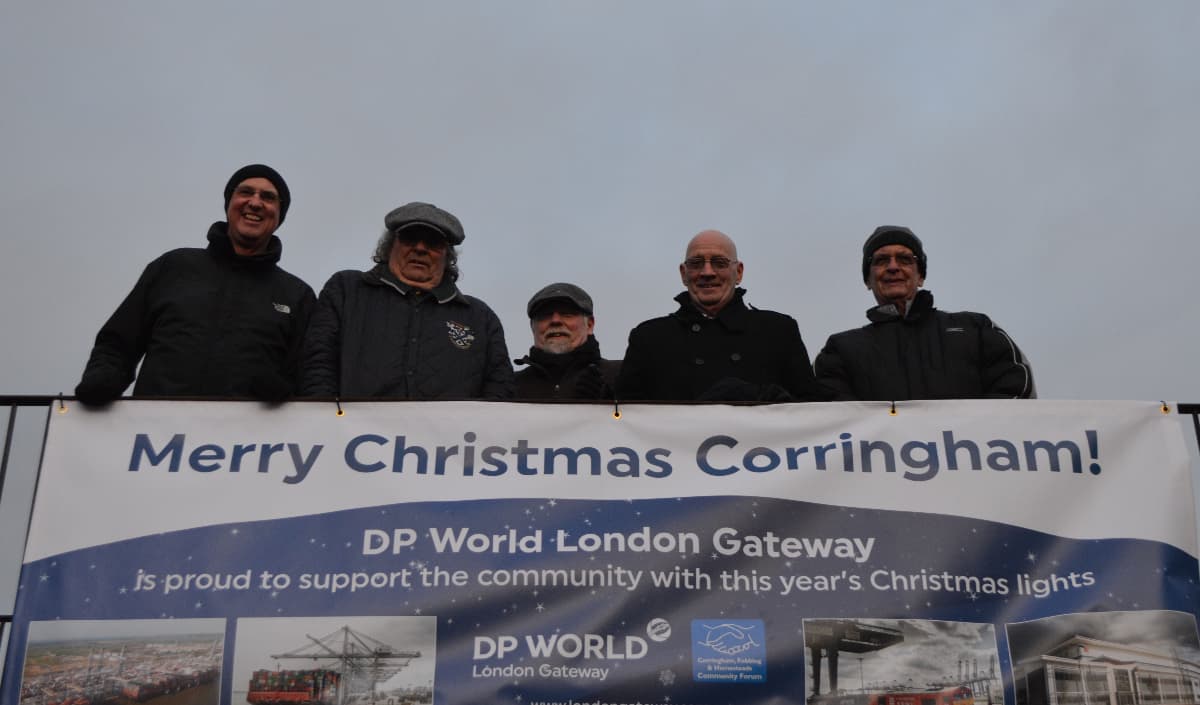 DP World London Gateway was proud to support the forum, pictured, in its bid to secure new Christmas lights for the town
That, along with contributions from the town's traders, residents and schools, including Corringham Primary School, which held a series of Teddy Bears' Picnics to raise funds, means the community forum now has a set of lights which can be used year-after-year.
DP World London Gateway, the port and Logistics Park located off Sorrells roundabout – which has created more than 1000 local jobs in the last five years – is the main business sponsor of the lights. Thames Oil Port, located on the former Coryton Oil Refinery site, has also assisted to make the purchase of the lights possible.
Jenny Meads, Acting-Chairman of the Corringham, Fobbing & Homesteads Community Forum, said: "We are delighted that Corringham will once again be lit up this Christmas, and every Christmas for the foreseeable years ahead.
"This project has only been made possible thanks to the generosity of Thurrock Council, DP World, Thames Oilport, traders and residents who have all really got behind the Forum and its team of volunteers, backed by Cllr. Roy Jones.
"This has been an exciting year for the Forum, which continues to work tirelessly for the community - not just on improving the area with Christmas lights and flower boxes, but also working with all on issues such as planning, policing and more. Anyone is welcome to join the Forum's meetings, which take place at 7.30pm in Corringham Hall on the second Monday of each month."
Matt Abbott, Communications Manager, DP World London Gateway, said: "We're extremely proud to have been able to work with the Forum and wider community in securing new lights for Corringham Town Centre, and very much hope the community comes out throughout December to enjoy the display.
"We're working hard to continue to be an active member of this thriving community, through our ongoing work with Thurrock Council, residents and schools and we wish everyone in the area a very Merry Christmas and a prosperous, happy 2018."
Local schools, such as Corringham Primary School - pictured above - played a key role in raising funds and making the town feel Christmassy